Greenfield Energy
TomCo's 100% owned subsidiary working to establish near term oil production in Utah
Greenfield Project Structure Aligned with Investors
TomCo has operational control over the project (100 % working interest)
Project restructured to align stakeholder interests with investors
Project development underway
The Greenfield Energy Project
In August 2021 TomCo announced an agreement with it's Joint Venture partner, Valkor LLC to acquire Valkor's half of Greenfield. TomCo now owns 100% of Greenfield, with full control, thereby affording TomCo's shareholders the opportunity to fully benefit from Greenfield's significant potential.
The Greenfield oil sand remediation plant is located to the Northwest of Vernal Utah.
The site in receipt of a full mining permit
Utilities infrastructure are all in place
Minable resources with an average strip ratio of 2:1
Significant reserves and economic returns confirmed by CPR (CPR published 1Q 2022)
Further 55m barrels of oil in place available for in-situ recovery; CPR pending finalisation of development assessment
TomCo's wholly owned subsidiary, Greenfield Energy owns a 10% Membership Interest in Tar Sands Holdings II(TSHII) with an exclusive option, at its sole discretion, to acquire the remaining 90% of the Membership Interests for additional cash consideration up to 31 December 2022.
TSHII owns approximately 760 acres of land in Uintah County, Utah, USA.  Subject to securing the requisite funding, Greenfield plans to use the Site, for the future mining of oil sands and construction of a commercial scale processing plant utilising the findings of the FEED study, which covers the production facilities for a 5,000 barrels of oil per day, and other knowledge and experience gained from Greenfield's operation of the test plant.  The Site has existing infrastructure, plant and equipment, together with an existing Large Mine Permit No. M0470032, that could facilitate any future development by Greenfield.
The main method for separating oil from oil sands involves using large gravity separation tanks to produce diluted bitumen, which can then be sent for refining. Issues with this method of separation include 1) large capex requirement, 2) very large requirement for water, 3) dirty (oiled) sand to be disposed of, and 4) bitumen output that contains high levels of sulphur.
The Greenfield project aims to use an innovative separation technology that gets around some of the problems with the "traditional" process.
This process has a number of advantages over conventional oil sands separation techniques:
A modular, scalable extraction plant
Lower start-up capex
Lower water requirement
By-product of clean sand, requiring no expensive remediation
Output of sweet (low sulphur) heavy oil, with no further refining
The following diagram illustrates the process.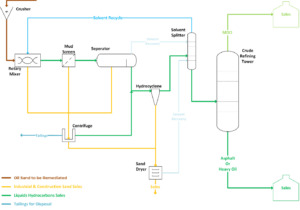 To view a presentation on the Greenfield site please click here.
Greenfield benefits from 6 revenue streams:
Fracking & Well Sand
Silica
Industrial Sand
Building Sand
Asphalt/Heavy Oil†
Middle Distillate Oil (MDO)
AC Oil is drilling 3 (AC Oil 1,2,6) exploration wells of which 2 (AC Oil 1,2) will be converted to production wells once the permits for these have been received. The purpose of the exploration wells is to confirm no water is in the target formation and to accurately confirm the depth (top and bottom) of the target formation. Core samples will be taken which will be tested for oil saturation, as well. Production wells AC Oil 3, 4, and 5 locations, will be fixed during the permitting process. A map for the 3 wells is below.